Please email us at deezmaker@gmail.com for any questions or if you experience any problems with the new shopping system. Thanks!
Bukito Portable Mini Printer Kit
3DK-Bukito-150
NOTE: Bukitos ship within about 1-3 weeks

This is our newest member to the Bukobot family. It's a sturdy, portable 3D printer you can take with you to all you adventures. Small, but mighty, the Bukito features 5.25"x6"x5" (140mmx150mmx125mm) build volume (150 cubic inches) and weighs about 7lbs.
Excellent for education, travelers and the makers of all ages, the Bukito is easy to build and fun to use.
150 cubic inches of freedom (5"x6"x5")
Works with Eco-Freindly and Safe PLA
100mm+/sec speeds
Sturdy Aluminum frame (no wooden parts)
Uses 1.75mm filament
Adaptable to Battery Power
Optional Bukito Stand & Spool Spinner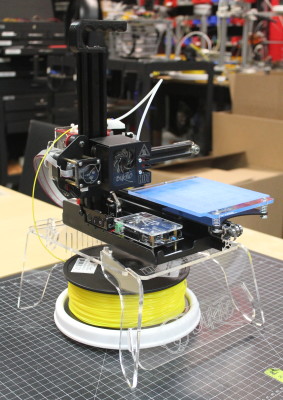 PLA Cooling Fan with Bracket (14)
Spool Spinner for 9" Rolls (13)
Platform Spatula (3.5)
4GB SD Card with Adapter (12)
Bukito Acrylic Stand (35)
PLA - Natural Clear (1kg) (50)
PLA - Black (1kg) (50)
PLA - Red (1kg) (50)
PLA - Blue (1kg) (50)
PLA - Green (1kg) (50)
PLA - White (1kg) (50)
Nylon 618 (0.45 kg) (35)