Meet our Desktop 3D Printers
Bukobot v2 Vanilla
Single extruder, upgradeable to Dual
Bukobot v2 Duo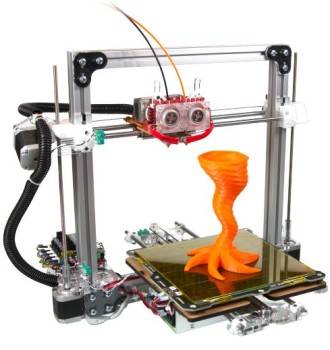 Dual extruders
Bukobot Highlights
Affordable Desktop 3D Object Printing for Makers

All Metal Extruders for Using Diverse Materials

Easy to Build Kit

Big 8″ x 8″ x 8″ Build Volume

High Quality Components

Fast Printing Speed

Dual Extruder Availablity

Open Source
You can create almost anything you can dream up with a Bukobot 3D printer, right on your desk!
From simple fixes for the house, like hooks for cookware or a replacement vacuum cleaner hose clamp, to custom toys and working engineering prototypes, a Bukobot is a Maker's dream come true It is designed so that you can even print new parts for more Bukobots! If you are a designer, artist, engineer or a hobbyist, this hardy machine will help open your imagination. A Bukobot is like your own little personal factory.
Even if you don't know 3D design yet,  thingiverse.com is an online database of user-created 3D models that you can download for free and reproduce with your Bukobot. Many of the examples we display were originally submitted by users on Thingiverse.
Building a Bukobot and creating 3D objects will introduce you, your kids and your students to the amazing world of "Makers". The Bukobot is a great project to learn more about mechanics, engineering, electronics, 3D design and many other sciences. 3D printing can be an amazing tool for teachers and parents to excite a student's interest in math and science, from building it out from a kit to a working 3D printer to using it create something tangible from the imagination. To help further the learning process, we have complete instructions on how to build a Bukobot and explain how it works.

Technical Specs
| | | |
| --- | --- | --- |
| Build Volume | | 200 x 200 x 200 mm (8 x 8 x 8 In) / 512 in³ |
| Filament Diameter | | 2.7mm to 3.00 mm |
| Nozzle Aperture | | 0.4 mm |
| Layer Resolution | | X/Y : 50 micron (0.05mm / 0.002 in) | Z : 20 micron (0.02mm / 0.0008) |
| Materials | | PLA, ABS, Nylon, PETT/PETG, Laywood, Polycarbonate, HIPS, PVA, TPE and more. |
| Feed Rate | | up to ~150mm / sec |
| Travel Rate | | ~300mm +/ sec |
| | | |
| --- | --- | --- |
| Connectivity | | microSD card, USB, OctoPrint compatible |
| Electronics | | Panucatt Devices "Azteeg X3" |
| Power Supply | | Input 110v-220v  / Output 12V, 250 watt (20 amp) |
| Heated Bed | | Panucatt Devices "Helios" 200mm |
| | | |
| --- | --- | --- |
| Body | | Precision Misumi Aluminum Extrusions |
| Build Platform | | Panucatt Devices "Helios" rigid heated bed |
| Linear Motion | | Synchromesh Drive System |
| Motor Stepping | | X & Y at 10 microns / Z @ 2 microns; 1/32 microstepping |
| Nozzle | | Deezmaker's Spitfire 0.4mm all metal nozzle |
| Drive Gear | | Deezmaker Tatsu v2 |
| Outer Dimensions | | 33cm x 34.3cm x 25.4 cm (13″ x 13.5″ x 10″) |
| Weight | | ~7kg (16 lbs) |
An All Around Wonderful 3D Printer
Videos Featuring the Bukobot