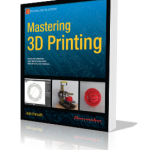 Come to our next monthly open houses – September 7 or October 5, from noon to 5 as always  – to learn more about 3D printing. In the meantime you can learn about 3D printing from Joan's new book,
Mastering 3D Printing
, which will be released later this month from Apress. You'll notice the Bukito on the cover, as well as a Matter Control screenshot from our friends at MatterHackers.   Joan wants to thank all the people at Deezmaker, our customers and colleagues for their many great suggestions as she was writing it. Rich was the technical reviewer.
The book is available for preorder through the Deezmaker store:
http://deezmaker.com/store/#!/~/product/category=0&id=39677359
Joan will be signing it at the October 5th open house and at New York Makerfaire (in the Apress booth).   There's more info about it on Joan's personal blog.