Intro to Arduino class at Deezmaker on 2/9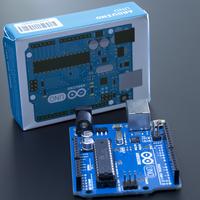 Arduino software and hardware has turned what once was a highly-specialized trade—hardware electronics—into something more accesible as a hobby. Whether they are scientists, engineers, musicians, or fashion designers, Arduino users with a wide variety of skills and technical savvy are now able to simply connect an Arduino board to a computer's USB port and program it to perform almost any action they desire. Clearing any proverbial roadblock in the process has also become quite easy by an ever-growing, very active, online community that is willing to help anyone in distress.
In this hands-on class we will dabble our feet, ever so gently, in the waters of hardware electronics. The aim is to get to know a little bit of the theory of operation, while actually making functioning devices. All participants will receive a kit from Acrobotic Industries that includes an original Arduino Uno R3, a breadboard, and several components that will highlight most applications for which the Arduino can be used.
Sign up on Eventbrite at this link:
http://www.eventbrite.com/e/intro-to-electronics-with-arduino-tickets-10256817417
The class will be taught by Francisco Zabala, CTO of Acrobotic Industries. Acrobotic is also based in Pasadena and   Kickstarter veterans with their Citizen Science kits.  This is the first of three classes about Arduinos and Citizen Science that Acrobotic will produce in collaboration with Deezmaker.  Class fee $90, limit of 16 people.