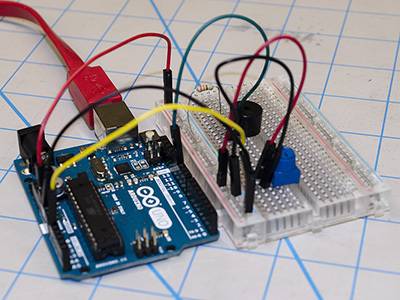 Getting Started with Arduino
March 4 @ 11:00 am

-

2:00 pm

|

$130
Join makers across the globe that use the Arduino platform to create interactive devices. The Arduino is an open source blend of hardware and software that allows anyone to easily create devices that sense the environment around them and take action in the physical world. Whether you're a designer, artist, hacker, inventor or just enjoy taking things apart to learn how they work, there has never been a more exciting time to learn about microcontrollers. They are the brains of electronics that allow them to perform specific tasks. They are found in everyday objects from remote controls to toys. Using the Arduino you can control LEDs, motors, LCD displays and so much more.
The class is for people that are new to working with the Arduino or need a refresher. We will go over the basics of how to use the Arduino hardware and write code to control your devices.
Class Agenda:
Intro to the Arduino platform and different boards
What are Shields and Breakout Boards
How to read a schematic
Difference between Digital vs Analog Signals
Using Input and Output Pins
Programming code and syntax
How to use Serial Communication
Programming Servo and Motor Controls
What do I need to bring?
A Laptop. Mac, PC, or Linux to practice programming with the Arduino IDE. No tablets.
How to Prepare?
Come with the Arduino IDE software installed on your computer. If you have trouble, no worries, we can help when you here too.
You can download it here: http://arduino.cc/en/Main/Software
Class time: 3.5 Hours
Included Arduino Kit:
Arduino (clone), USB Cable, Breadboard, Jumper Cables, RGB LED, Potentiometer, Push Buttons, Tilt Sensor, Photoresistor, Servo Motor, Red, Blue, Yellow LEDs, Resistor pack
Workshop is lead by Jonathan Acuña