Happy New Year to you all! Hope your new year is off to an exciting start.
For the Deezmaker team, 2015 got off to a flying start. We sponsored the 2015 AT&T Developer Summit held at the Palms Las Vegas.
Deezmaker at a developer summit you ask?
It was a perfect place for us. We got to hang out with lots of cool developers, introduced our printers and helped them find new ways of using printers for hackathons. By being at the event, we were able to help developers bring form and function – a unique new dimension to their proposals.

About the AT&T Event
The 6th Annual AT&T Hack-a-thon & Developer summit, held in Las Vegas on the side-lines of CES was attended by over 900 attendees. Participants had two (2) days (48 hours) to build and code their mobile app solution. Among the over $250 of winnable gifts were two (2) 3D Printer Kits by Deezmaker worth almost $5,000.
Alex Donn kicked off the event at 8:00am on Saturday January 3rd with background, rules and an introduction to the sponsors. We introduced our company, capabilities and outlined our award.
The 48 hours that followed were exciting and exhausting at the same time. Teams were formed, Ideas brainstormed, Algorithms flow-charted, designs made, implementations validated, pitches rehearsed and presentations made. All fueled by an unending supply of Coffee, Coke, Red Bull, Monster alongside a regular flow of Muffins, Donuts, Bagels, Pizza, Pasta, Chicken interrupted by salads and oh, yes some yummy cookies, brownies and pastries.
3D Printing at the Hackathon
Deezmaker was the exclusive 3D printer at the event and we were right in the midst of it along-side some amazing partners. We setup an awesome line of six (6) printers, four Bukitos & two Bukobots.
After the kickoff, the teams came by our booth to learn about us. They initially found our products fascinating and our Bukito & Bukobot 3D printing capabilities intriguing (actual word was confusing but Ravi preferred the word Intriguing).
However, once they saw our printers at work, learnt about their magical capability in things created by Diego, heard the vision from Ravi, the gears fell into place!!
Idea Flow and Use of 3D Printers
Hackathons teams are typically made up of Coders who can make music with Java and C++ and Marketers who can sell anything with a PowerPoint and a microphone.
At this show, thanks to Deezmaker, we were able to enhance teams with Designers and the Makers, those who could put a tangible form around the code and make it "a thing that is smart."
By mid-day, we were busy with a constant stream of people fascinated by our product line, amazed by the quality of the products made and excited by the idea of using our printers at the hackathons.
Ideas started trickling in during the day and suddenly turned into a Tsunami after 8pm. Diego ended up helping more than 30 teams with their ideas. Ravi also got into the act and was able to make objects into the morning. Pictures of participants, their ideas and objects we made are on our Deezmaker web page.
And the Winners Are…
For the "Most Creative Use of Deezmaker 3D Printer" : Team Gamified Home
They transformed the AT&T digital life sensors into a gamified home with a unique theme. Most of the face-plates were 3D Objects made with our printers. By creating a unique theme and packaging sensors into interesting theme-based forms, they utilized Bukitos to bring to life to an otherwise life-less object and enhanced their story.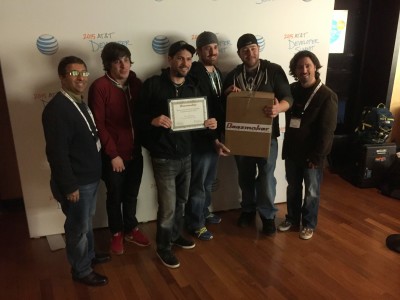 For the "Best Example of Wearable Technology made using Deezmaker 3D Printer" : Team Blind BoBo
They transformed a belt buckle into a sensor that guides and navigates the blind, guides them towards their destination, senses obstacles and warns. Belt buckle and sensor casing were made using Bukito 3D printers.
The Final Word
A special thanks to Christina from Girls Who Code, Pavel from Synspace and Leon who were kind enough to volunteer their time and help us at the event –  they were there when we needed them the most.
Thanks also to the team at AT&T for hosting a spectacular event.
Finally, congratulations to all the participants and winners! Your ideas were great. We look forward to staying in touch and seeing you at our upcoming events.
Do keep us posted with your  3D Printing Stories, email us your questions and swing by our studio in Pasadena.
Here are some key links and pictures from the event.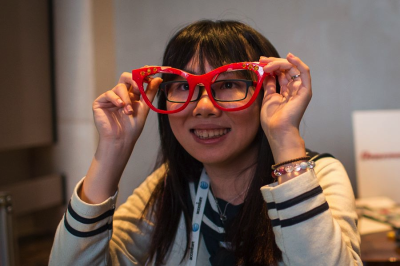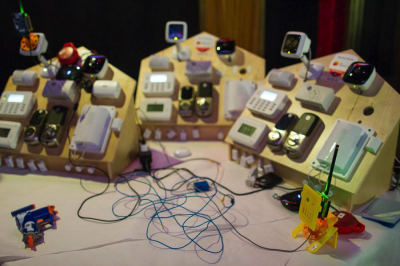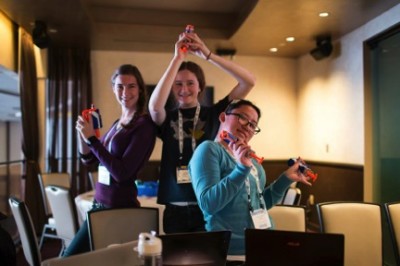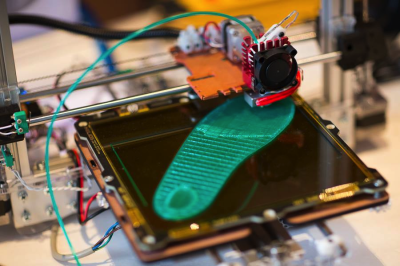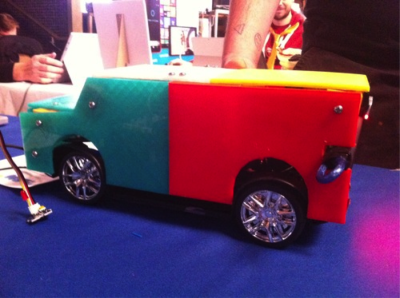 AT&T Blog: http://developerboards.att.lithium.com/t5/AT-T-Developer-Program-Blogs/bg-p/Blogs
http://developerboards.att.lithium.com/t5/AT-T-Developer-Program-Blogs/Watch-Hackathon-Teams-Present-their-Apps-at-the-AT-amp-T/ba-p/39496
http://developerboards.att.lithium.com/t5/AT-T-Developer-Program-Blogs/Cool-Tech-Created-by-AT-amp-T-Developer-Summit-Hackathon/bc-p/39534#M1404
http://www.reviewjournal.com/life/technology/sixth-annual-hackathon-competition-hits-las-vegas