Bukobot v2 3D Printer Kits

 Bukobot v2 Vanilla (Single) & Duo (Dual Extruders)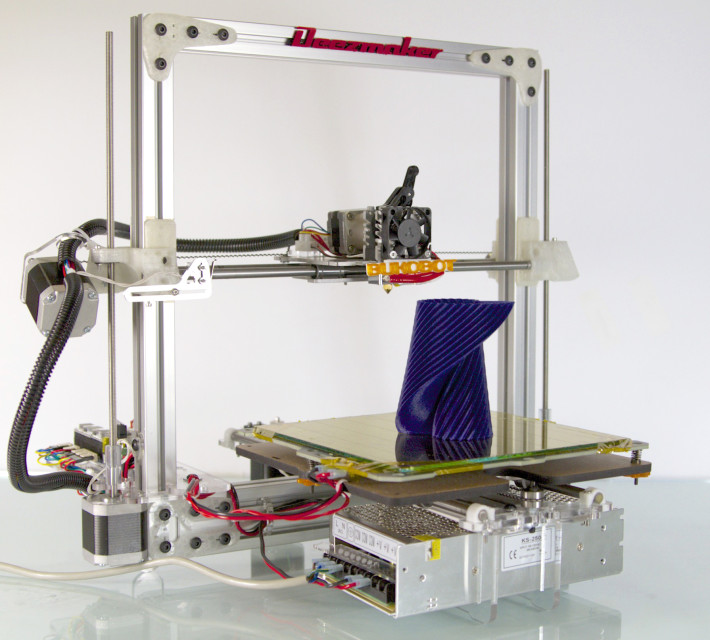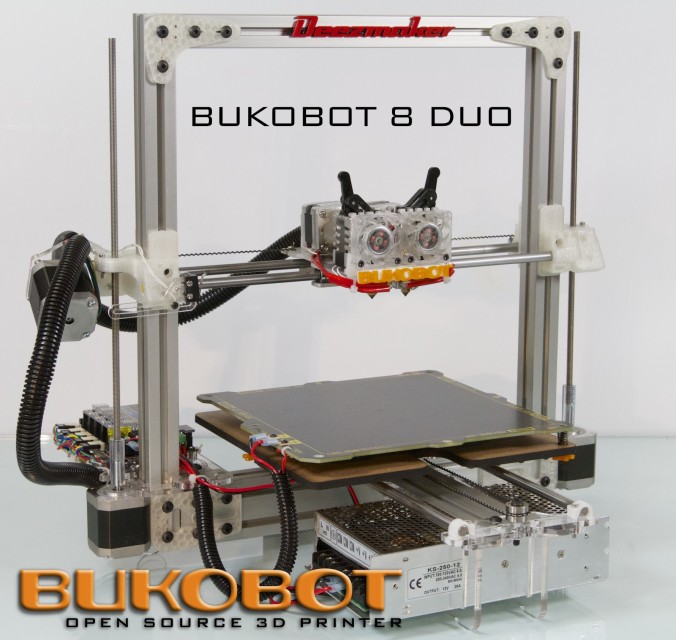 Affordable Desktop 3D Object Printing for Everyone
Great First Printer..or Second..or Third!
Easy to Build Kit
Easy to Expand or Upgrade
High Quality Components
Faster than most printers
Dual Extruder Option
Great Documentation
Open Source
You can create almost anything you can dream up with a Bukobot 3D printer, right on your desk!

What is Buko?
The Buko framework is the next generation of Open Source 3D Printers. Our 3D printers using this new framework are called Bukobots.
With many months in development, I have combined the best ideas from the open source community and some new ideas of my own into an extremely flexible open source 3D printer design. Following the traditions of  "Reprap" 3D printers, the new Buko framework design is self-replicating and does not require any special machining for it's major parts. I have carefully designed this new 3D printer to be very easy to build, very sturdy and have the ability to grow in the future without compromising print quality. Bukobots will raise the bar of open source 3D printers.
Visit Bukobot.com for more information on software and details of the Bukobots.
What is 3D printing?
3D printing is the process of creating solid objects from digital files. Bukobots use a process called "Additive Manufacturing" to create 3D models from digital files available on the web or created with 3D software. These solid objects can be made from ABS (similar to the plastic of Legos) or PLA (an eco friendly plastic) filament.
Here's a timelapse video of a Bukobot making the CrashSpace Pyramid logo by theron (http://thingiverse.com/thing:12726)
What Can You Make With a Bukobot?
From simple fixes around the house, like hooks for cookware or a replacement vacuum cleaner hose clamp, to custom toys and working engineering prototypes, a Bukobot is a Maker's dream come true…you can even print new parts for more Bukobots! If you are a designer, artist, engineer or a hobbyist, a Bukobot will open your imagination. A Bukobot is like your own little personal factory.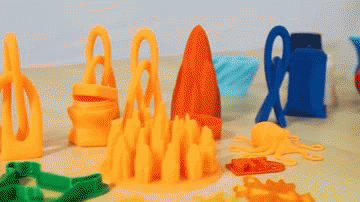 If you are new to 3D printing, then I would like to invite you to visit thingiverse.com to see the incredible things you can download for free and reproduce with a Bukobot.
Note: I have no association with thingiverse.com, I just love the site!
What Can You Learn With a Bukobot?
Building a Bukobot and creating 3D objects will introduce you, your kids, and students to the amazing world of "Makers". The Bukobot is a great project to learn more about mechanics, engineering, electronics, 3D design and many other sciences. 3D printing can be an amazing tool for teachers and parents to excite a student's interest in math and science. To help  further the learning process, I am developing complete instructions on how to build a Bukobot and explain how it works.
Quality, Quality, Quality
My Bukobot kits are all about quality. I think it's very important in this new technology to have the best experience possible for it to become mainstream. I know there are some cheaper printers out there, but one way or another they compromise something to make them "good enough". All my Bukobots kits will have the best motors, electronics and components possible to make sure that it's durable, reliable and faster.
Affordable
From a low cost upgrade to a fully assembled dual extruder model, a Bukobot will be less expensive than many other 3D printers without compromising performance. With the smart Buko framework, there are many versions to fit your budget or 3D printing needs. So don't be afraid to start small with a "Mini" or "Green" version because the Bukobots can always be upgraded or expanded later. Keep in mind that the Bukobots follow the Reprap tradition of self replication. After you build your first Bukobot, you can eventually print out new parts for another one to share with friends and family.
Easy to Build

The smart Buko framework is designed to make building a 3D printer much easier than ever without sacrificing print quality! Even for the less experienced, a Bukobot can take just a couple hours to build. Only simple tools are needed like allen keys, screw drivers, utility knife and needle nose pliers.
Expandable & Upgradable.
With a Bukobot, you can keep up with the times with simple upgrades, I tried my best to design the Buko framework as "future" compatible as possible. Want it to print higher? Want it to print faster? Not a problem! It may just take a few longer pieces of aluminum extrusions, longer cables (or belts) and rods or maybe some simple electronic parts to get to the next level.
Great Documentation!
With your support of the Bukobot, you will be helping to create the great documentation to guide you through the easy building process of a Bukobot 3D printer. I want to reduce the time people spend looking for answers on different websites and forums to find all the pieces of information. From shipping box to your first 3D print, I will try my best to be your prime source for documentation on the Bukobot.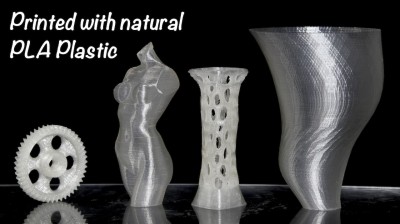 The Bukobot models are made to work with PLA plastic. PLA is a type of plastic that is made from corn starch (or sugar sometimes) and is biodegradable. PLA is actually harder than ABS, which makes it ideal for mechanical applications than need a little more strength. Secondly, they consume less energy because PLA doesn't require a heated platform to create 3D prints and it melts at a lower temperature than ABS plastic. This also makes it a bit safer for younger kids that want to explore 3D printing with their teachers and parents.
New Innovations
The Buko framework introduces a couple of new engineering components rarely seen in 3D printers. A new material used on the Bukobots is Ultra-high-molecular-weight polyethylene (UHMW-PE). This special polyethylene material has some amazing properties and is actually not hard to find. This material is used in some parts on the Z axis to reduce components, increase longevity and to help make things quieter. The other new component being used is the stainless steel Syncromesh Cable. This new type of cable will replace all belts to lower costs while reducing space needed and increasing strength of the axis drive system.
Great Performance
A major reason we decided to create a new 3D printer is my disappointment with current speeds and rigidity. I have plenty of patience for normal things, but when it comes to waiting 3-4 hours for a small 3D printed part, it's just not acceptable to me. To accomplish greater speed on a 3D printer you need a very sturdy frame and some amazing firmware. Bukobots have both. The aluminum extrusions are nearly impossible to bend and the design of the joints are made to be as strong and rigid as possible. With the amazing Marlin firmware, Bukobots are made to run faster than most from the start. With a good combination of a good extruder and powerful motors, it can probably go even faster. With a Bukobot, you can stop watching grass grow and get your 3D prints faster!
Looks Awesome
I made the look of the Bukobots an important part in my designs. I wanted my 3D printer to look cool and stand out from others. It was also important to have a very open area to see clearly what is being printed and to see how everything was working. Most of the 3D printed parts I designed have curves and cool angles to give things a more professional look. I also dedicated some valuable time to design wire guides that help hide and organize the wiring around the printer.
Open Source
Coming from a "Reprap" type of 3D printer, the Buko framework design files will be released into the world to have and use for personal use. By supporting the Bukobot projects, you will be helping to complete and improve these files. I strongly believe in open source and collaborative projects in technology.