Bukobot 3D Printer Resolution Tests
13 May 2012
Last Updated on 24 January 2013
I've been asked a lot what the resolution capabilities were of the Bukobots, so I made a little test (literally!) to show it. In theory, I knew the Bukobot can handle it and things always sound great on paper, but I decide to put it to a good test. Most 3D printers work at 0.3mm or 0.25mm and barely do well at 0.1mm, but I pushed my Bukobot 8 Vanilla prototype to 0.05mm. The detail actually amazed me because I thought the plastic wasn't going to be good enough to go that small, but it did and it came out really awesome. All Bukobot models will be able to do these resolutions because the axis travel ratios will all be same. I hope this shows everyone how solid and precise a Bukobot can be.
Click on images to download the high-res version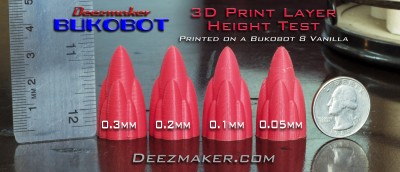 I printed a 
sculpture
 and a 
yoda
 because they had some nice curves that would show the layers nicely. I printed these on my Bukobot 8 Vanilla prototype using Repetier Host for mac and Slic3r 1.7.2b for the slicing. The nozzle is a Budaschozzle 1.1 with a 0.35mm opening from the awesome guys at 
Lulzbots.com
 and my controller board is the 
Azteeg X1 from Panucatt Devices
.